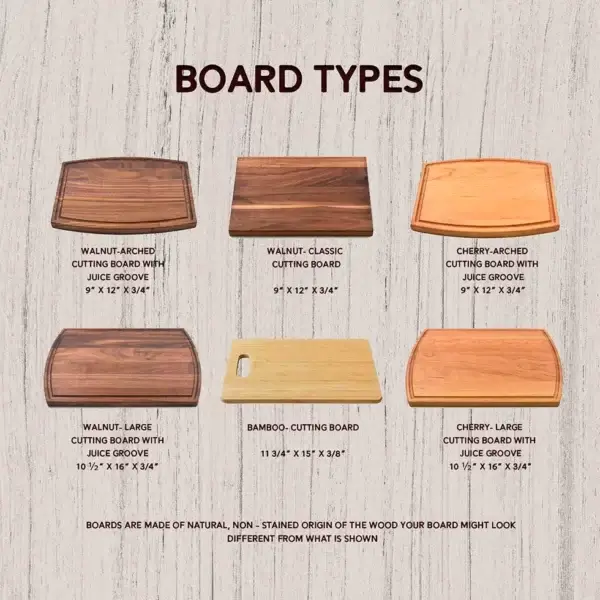 $74.95 – $89.95
Celebrate love and togetherness with Aspera Design Store's Exquisite Handled Cutting Board, a perfect gift for newlyweds and newly engaged couples. This Cutting Board for Wedding Gift is more than just a kitchen tool; it's a work of art meticulously crafted to add elegance to their culinary endeavors. The polished surface ensures seamless chopping and slicing, while the handles provide ease of use and a touch of sophistication.
Looking for bridal gifts near you? Your search ends here. The Exquisite Handled Cutting Board is not only practical but also a personalized memento. The engraved bamboo cutting board captures the essence of their love story, making every meal a memorable experience. It's a gift that combines utility and sentiment, a testament to your best wishes for the couple's future together.
Description
~ Personalization On Cutting Board for Wedding Gift ~
Enter the text that you would like to have to appear on your product in the "enter the information to be personalized on the board" box. We will use the font and design in the product image shown above on your custom order.
Be sure to check your spelling and punctuation, as your engraving will appear exactly as you write it out for us! We cannot guarantee returns or refunds in customer error.
Please note! The boards may not look exactly like the images provided as it follows the natural color variations. Sometimes the wood has a darker shade and sometimes it has a bit lighter version so, we cannot guarantee the exact color shade.
Who Should Use this custom wood board?
The board is a custom board with a couple of names, wedding dates, or a special message. It makes it a unique and sentimental keepsake that commemorates their union. It is a great gift couple. Whether it's for newlyweds, a couple celebrating anniversaries, or any other special occasion.
Also, The name engraved cutting board is for the couple who is getting married. It is a special item that can enjoy by the newlyweds or given as a thoughtful gift to celebrate.
Considerations for Cutting Board for Wedding Gift :
To care for this board, simply hand wash it, and about once a month (more often with heavy use) apply a liberal amount of food-grade mineral oil.
Furthermore, We craft each item to order, ensuring that we tailor every product specifically to your preferences.
We engrave each order as we receive them. It usually takes around 3-5 business days for us to prepare your order for shipping.
Lastly, it is important to note that we craft the Cutting Board For Wedding Gift from natural, non-stained wood, therefore, enhancing its unique and rustic charm. Consequently, it is important to note that your board may exhibit slight variations when compared to the shown image.