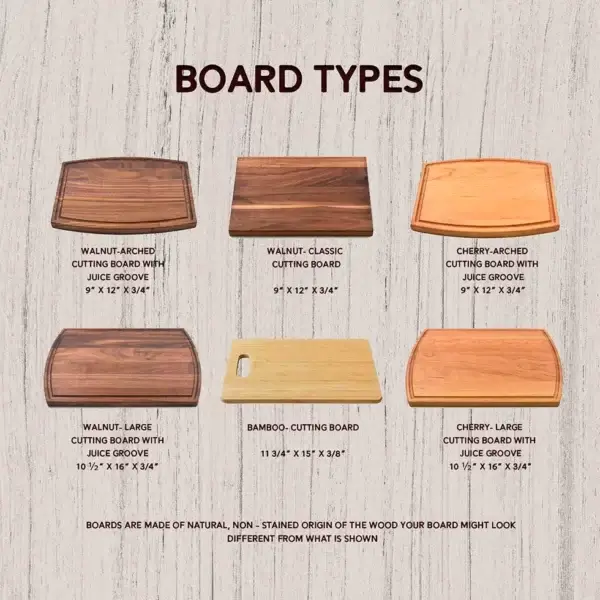 $74.95 – $89.95
Looking for the perfect gift? This chic and rustic chopping board is crafted from solid Walnut/Cherry wood and can be personalized with your own unique message. Whether used as a kitchen product or decorative display, it's sure to bring style to any kitchen. Choose from our customizable designs to surprise your loved one with a thoughtful and personalized gift this Valentine's Day.  ALL NATURAL No synthetic materials here. Made from solid 100% natural Walnut or Cherry Wood. Made in the USA. These boards will be at the heart of your kitchen for years to come. Our Cutting Boards are naturally resistant to water and humid environments, making them also resistant to bacteria. Durable, solid construction and meant to last a long time. It is perfect for chopping meats, fruits, and vegetables but beautiful enough to be used as a serving board. The cutting board features a reversible design, so you can use both sides when cutting various foods.
Description
~ Personalization On Custom Couple Wood Board
Enter the text that you would like to have to appear on your product in the "enter the information to be personalized on the board" box. We will use the font and design in the product image shown above on your custom order.
Please note! We cannot grant returns due to customer spelling errors or to the nature of personalized orders. Also, The boards may be slightly different from the images provided. It is because the individual characteristics of the wood and the intricacy of the engraving contribute to their distinct appearance.
Firstly, please take a proactive approach and review your order carefully before finalizing it. Thoroughly checking the details will help prevent errors or discrepancies and ensure that everything meets your specifications. We greatly appreciate your attention to this matter and value your understanding.
Each Name Engraved on Cutting Board is engraved to order and will have natural color variations. Boards may not look exactly like the images provided, as each piece of wood and its engraving is one-of-a-kind. Organic variations in color are natural, desirable characteristics and do not affect the integrity of the products.
We finish each engraved cutting board with food-grade mineral oil, ensuring that it meets the necessary standards for safe use.
Who Should Buy Personalized Couple Board
Our custom wood board is a memorable gift that can use by the couple to use in various ways. It is the best gift idea for weddings, anniversaries, or any special occasion. It makes an ideal addition to the kitchen and a beautiful symbol of love.
This couple wood board serves as a unique and meaningful wedding gift. Imagine working in a kitchen preparing dishes together and each time you use it you'll have those memories each time you've used it. It serves as a versatile cutting board, perfect for slicing and dicing a variety of ingredients while preparing meals together. The sturdy construction ensures durability, making it a long-lasting addition to their kitchen.
Considerations for Custom Couple Wood Board:
To care for this board, it is recommended to start by hand washing it with mild soap. In addition, it is advisable to apply a liberal amount of food-grade mineral oil to the Names Engraved Cutting Board about once a month (or more often with heavy use) to maintain its optimal condition. Moreover, this regular maintenance routine will help nourish the wood and ensure its longevity over time.
By adhering to this regular maintenance routine, you can effectively nourish the wood and ensure its quality and longevity over time.
We create all items according to your specific order. This means that each product is custom-made and tailored to your preferences.
We engrave each order as we receive them.
It usually takes around 3-5 business days for us to prepare your order for shipping.
Lastly, it is important to note that we craft the Names Engraved Cutting Board from natural, non-stained wood, therefore, enhancing its unique and rustic charm. Consequently, it is important to note that your board may exhibit slight variations when compared to the shown image. However, it is important to embrace these natural variations as they contribute to the board's uniqueness as part of its inherent beauty.
These variations, however, are completely normal and are a result of the natural characteristics of the wood. However, you can rest assured that these variations only serve to highlight the board's individuality in addition to its natural beauty. Embracing these subtle differences adds to the charm and uniqueness of each Names Engraved Cutting Board.