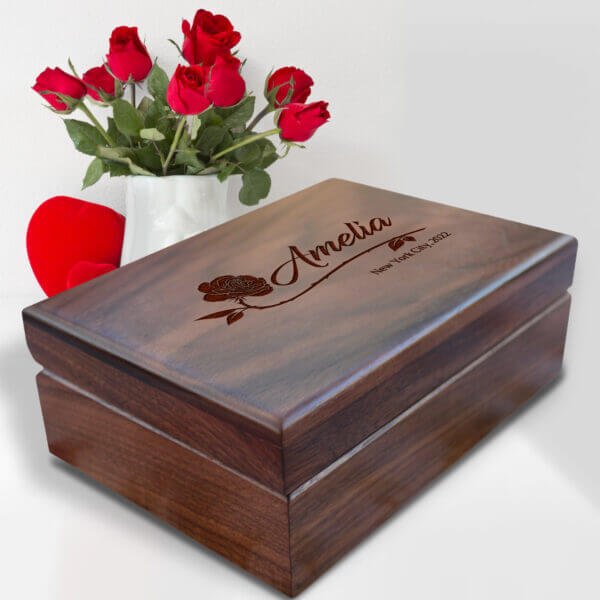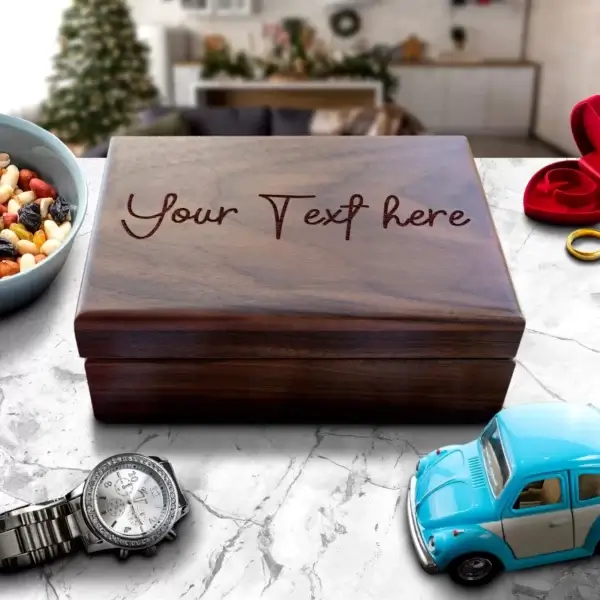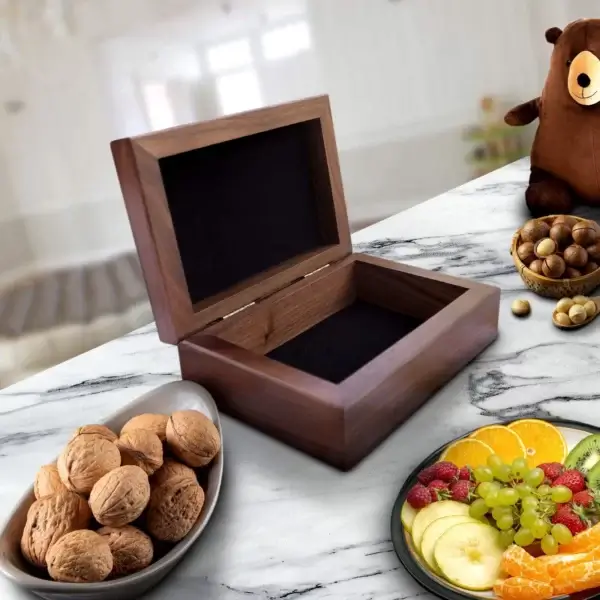 $84.95 – $99.95
The Girls Keepsake Box is made of Pretty High-Quality Real, Natural, Solid Walnut Wood; it has a smooth finish; and is lightweight.
The elegant and romantic script takes center stage on this keepsake box. Celebrate love in all its forms — your loving relationship, a new addition to the family, your dear friend's life milestone — with a personalized keepsake that gets more special over time. Ideal for weddings, anniversaries, or any milestone occasion. Engraved to perfection, this keepsake is not meant to hide in the back of a closet. This makes an elegant, thoughtful gift for the ones you love or for a personalized, special space to keep your prized mementos. And make excellent gifts for Housewarming parties, wedding gifts, Engagement presents, Gifts for Couples, Anniversary gifts, Present For Couples, Mother's Day gifts, Kitchen gifts, and Birthday gifts.
Description
~ Personalization On Girls Keepsake Memory Box ~
~ Item Specifications ~
Materials: Solid Walnut Box
Medium Size:
-Outside Dimensions: – 7″ x 5″ x 2.5″
-Inside Dimensions: – 5.8″ x 3.7″ x 2″
Large Size:
-Outside Dimensions: – 9″ x 7.5″ x 2.5″
-Inside Dimensions: – 8.4″ x 5.9″ x 2″
In the "enter the information to be personalized on the Wooden Box" box. We will use the font and design in the above product image on your custom order.
Be sure to check your spelling and punctuation as your engraving will appear exactly as you write it out for us!
Since the information will be copied and pasted into the design, it is essential to provide the exact wording you would like to see on the board. Thus, please specify the precise details and content you wish to be included.
Unfortunately, we are unable to accept returns or provide refunds due to customer error. Consequently, it is crucial to carefully consider your purchase and ensure all details are accurate before finalizing your order.
"We engrave each Girls Memory Box and Girls Jewelry Box to order, resulting in natural color variations." Wooden Box may not look exactly like the images provided, as each piece of wood and its engraving is one-of-a-kind. Organic variations in color are natural, desirable characteristics and do not affect the integrity of the products.
Who Should Use This Girls keepsake Memory Box?
Girls can use the memory box to keep special items and mementos that hold sentimental value to them, such as friendship bracelets, handwritten notes, photos of cherished moments, concert tickets, or awards they have received. Parents can also use a girl's memory box to collect and store keepsakes from their daughter's childhood, such as her first lock of hair, baby photos, her favorite toys, or important milestones like her first tooth or school achievements.
If you're looking for Memory Box as a Gift for your dad. We do have Father Keepsake Box as well, For giving as a birthday Gift. Our Memory Box is for anyone of any age and our quality is one-of-a-kind and recognized. If you want keepsake boxes for other family members visit the Aspera design store.
Considerations for this Girl Memory Box:
We make all items to order, which allows us to provide a personalized touch and meticulous attention to detail.Furthermore, as a testament to our unwavering commitment to exceptional craftsmanship, we also, diligently go the extra mile by engraving each order upon receipt. Therefore this commitment ensures that we personalize and craft your Memory box with utmost care.
However, we kindly request that you allow 3-5 business days for us to prepare your order for shipping. During this designated time frame, we diligently prioritize and ensure the careful handling and prompt delivery of your.
"Our Solid Walnut Boxes undergo meticulous craftsmanship, using natural, non-stained wood, which further enhances their unique and rustic charm."Consequently, it's worth noting that your selected gifts may display slight variations from the shown image. Therefore accentuating their individuality and natural beauty are something that everyone like.
Additional information
| | |
| --- | --- |
| Box Size Type | Medium Size 7x5x2.5 $84.95, Large Size 9×7.5×2.5 $99.95 |