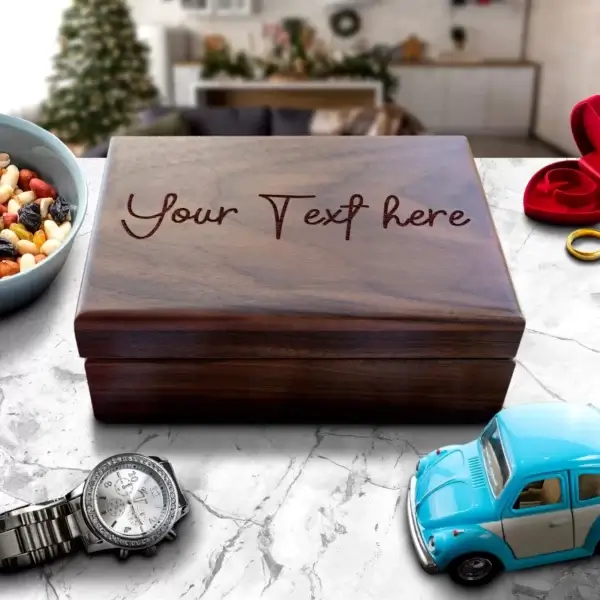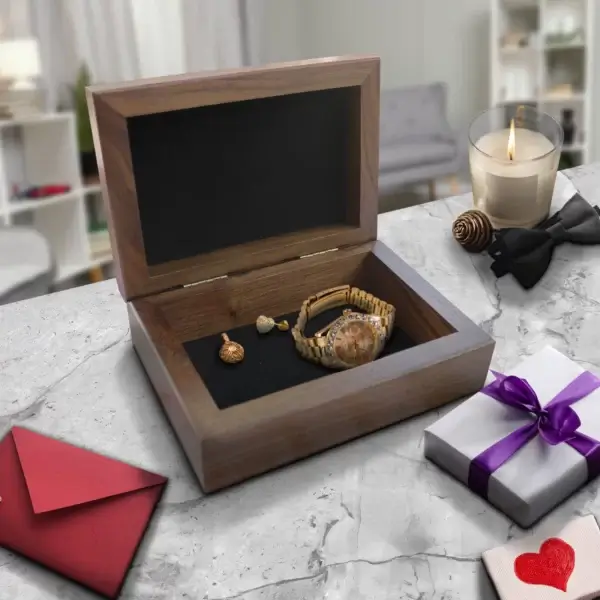 $84.95 – $99.95
Our bride and groom wedding memory box is a true embodiment of timeless elegance, designed to encapsulate the cherished moments of your special day. The box is made of the best walnut wood, which has unrivaled quality and elegance. Its elegant black felt-lined interior protects your most precious keepsakes and delicate trinkets while retaining the essence of your wedding day memories.
Our medium and large sizes offer versatility, perfectly fitting any wedding style or celebration. This monogrammed box serves as a beloved anniversary gift for the bride and groom, a beautiful birthday keepsake, or a thoughtfully personalized wedding gift for newlyweds. The luxurious stained finish and carefully carved design make it the perfect gift for a variety of occasions.
Description
~ Item Specifications for Memory Box for Wedding ~
Materials: Solid Walnut Box
Medium Size:
Outside Dimensions: – 7″ x 5″ x 2.5″
Inside Dimensions: – 5.8″ x 3.7″ x 2″
Large Size:
Outside Dimensions: – 9″ x 7.5″ x 2.5″
Inside Dimensions: – 8.4″ x 5.9″ x 2″
~ PERSONALIZATION ~
Enter the text that you would like to have to appear on your product in the "enter the information to be personalized on the Wooden Box" box. We will use the font and design in the product image shown above on your custom order. Please keep these 2 points in mind before ordering to us.
Firstly, Be sure to check your spelling and punctuation, as your engraving will appear exactly as you write it out for us!
The information will be copied and pasted into the design; therefore, provide exactly what you want to see on the board.
We are unable to accept returns or provide refunds due to customer error.
Secondly, Each WEDDING GIFT for COUPLES, Wedding Keepsake Box is engraved to order and will have natural color variations. Wooden Box may not look exactly like the images provided, as each piece of wood and its engraving is one-of-a-kind. Organic variations in color are natural, desirable characteristics and do not affect the integrity of the products.
Who Should Buy Memory Box for Wedding?
These items serve as thoughtful gifts or storage solutions for preserving memories. Couples can use these boxes to store mementos such as photographs, letters, and small trinkets. It holds sentimental value from their wedding or engagement.
Additionally, the Wooden Proposal Engagement Box specifically caters to couples. It can be used to store the engagement ring, love letters, or any other items associated with the proposal.
Overall, these products are designed to enhance the experience of couples during their wedding or engagement period and provide a meaningful way to preserve and celebrate their special moments.
How Long Does it Take to Deliver?
We engrave each order as we receive them. It usually takes around 3-5 business days for us to prepare your order for shipping.
WALNUT BOX ARE MADE OF NATURAL, NON-STAINED ORIGIN OF THE WOOD. YOUR BOX MIGHT LOOK DIFFERENT FROM WHAT IS SHOWN-WEDDING GIFT for COUPLES, Wedding Keepsake Box.
Also, look at our collection of Personlise memory boxes. And cutting board. They both can serve as the best gift for the couple.
Additional information
| | |
| --- | --- |
| Box Size Type | Medium Size 7x5x2.5 $84.95, Large Size 9×7.5×2.5 $99.95 |