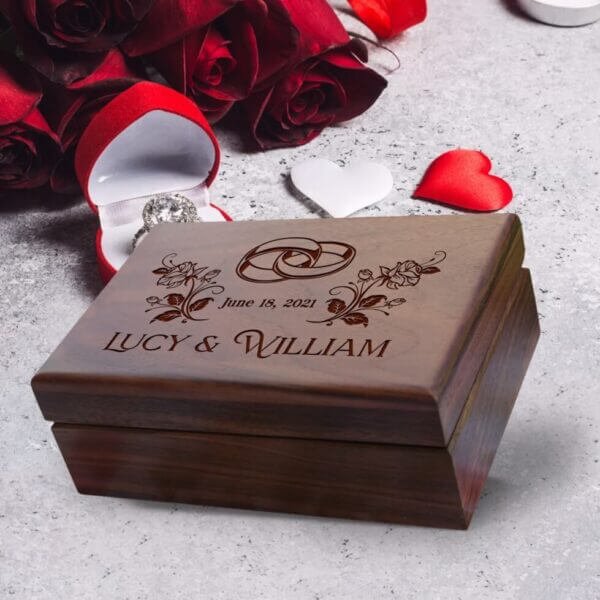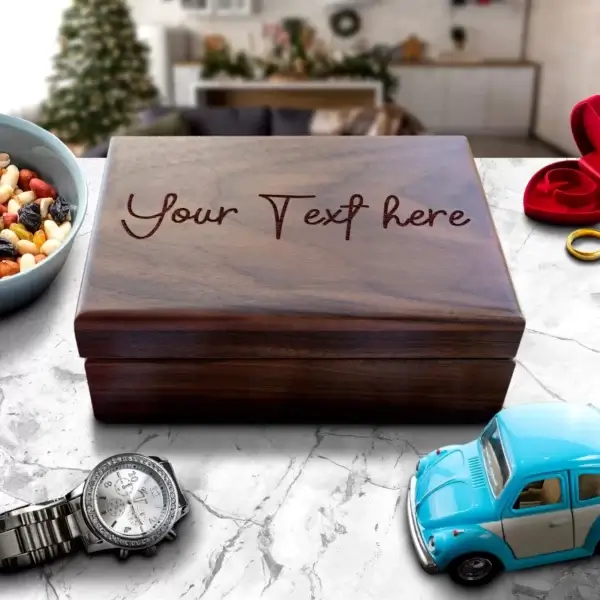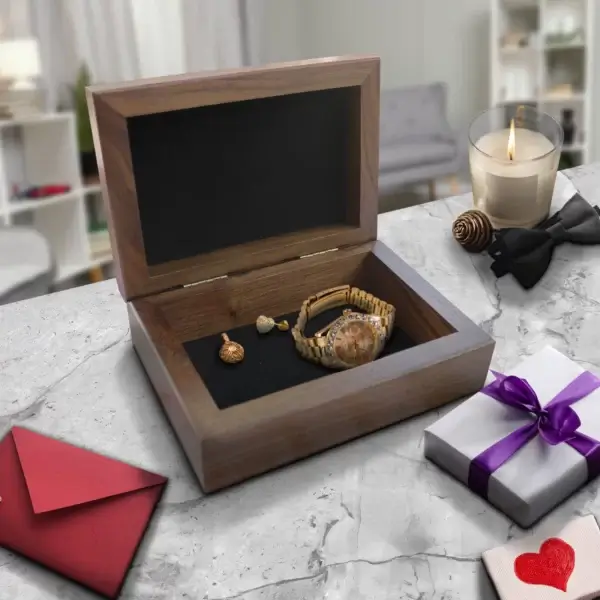 $84.95 – $99.95
Our Wedding Day Gift Box is a symbol of personal elegance, a tangible embodiment of your special journey together. The boxes are handcrafted from the finest domestic walnut wood, guaranteeing quality and elegance for your keepsakes. The masterpiece box can be personalized with a monogram, name, meaningful quote, or special date of your choice.
The engraved wooden boxes, which are beautifully presented in two sizes—medium and large—are designed to fit perfectly into your lifestyle. This wooden keepsake box stands as a symbol of remembrance and love, a timeless vessel that encapsulates cherished memories, providing solace each time it's opened. This personalized box is the embodiment of thoughtfulness and sentiment.
Description
~ Personalization On Personalized Wedding Gift ~
~ Item Specifications ~
● Materials: Solid Walnut Box
Medium Size:
● Outside Dimensions: – 7″ x 5″ x 2.5″
● Inside Dimensions: – 5.8″ x 3.7″ x 2″
Large Size:
● Outside Dimensions: – 9″ x 7.5″ x 2.5″
● Inside Dimensions: – 8.4″ x 5.9″ x 2″
In the "enter the information to be personalized on the Wooden Box" box. We will use the font and design in the product image shown above on your custom order.
Be sure to check your spelling and punctuation as your engraving will appear exactly as you write it out for us!
The information will be copied and pasted into the design; therefore, provide exactly what you want to see on the board.
We are unable to accept returns or provide refunds due to customer error.
Each Personalized Wedding Gift for Bride Groom Box is engraved to order and will have natural color variations. Wooden Box may not look exactly like the images provided, as each piece of wood and its engraving is one-of-a-kind. Organic variations in color are natural, desirable characteristics and do not affect the integrity of the products.
Who Should Use This Wedding Gift?
The personalized wedding gift for the bride can be given by anyone who has a close relationship with the bride and wants to offer a thoughtful and meaningful present. The groom can choose a personalized gift to surprise his bride on their wedding day. It could be a sentimental item or something that reflects their shared interests or memories. The parents of the bride, whether it's the mother or both parents, also can give a personalized wedding gift to their daughter. It could be a family heirloom, a custom-made piece of jewelry, or any item that holds significance within the family.
If you're looking for Memory Box for your girl and boy. We do have Baptism gifts for both boys and girls as well, you can keep them for the memory of your boy's Baptism pictures.
Our Memory Box is for anyone of any age, and our quality is one-of-a-kind and recognized. If you want keepsake boxes for other family members, visit the Aspera design store.
Considerations for this Personalized Gift:
Furthermore, by making all items to order, we can offer a truly personalized touch and devote meticulous attention to detail. As a result, this approach allows us to create a product that reflects your unique preferences and requirements. In light of our unwavering commitment to exceptional craftsmanship, we go the extra mile by diligently engraving each order upon receipt. This dedicated commitment assures that we personalize and craft your Memory box with the utmost care, ensuring its quality and distinctiveness. With this in mind, you can trust that your keepsake box will be a cherished and meticulously crafted piece that embodies the significance of your memories.
However, we kindly request that you allow 3-5 business days for us to prepare your order for shipping. During this designated time frame, we diligently prioritize and ensure the careful handling and prompt delivery of yours.
Therefore, our Solid Walnut Boxes undergo meticulous craftsmanship, utilizing natural, non-stained wood. As a result, this process enhances their unique and rustic charm, thereby creating an exquisite final product. Additionally, it's worth noting that your selected gifts may display slight variations from the shown image. However, these subtle variations further accentuate their individuality and natural beauty, contributing to their overall appeal. In advance, we appreciate your understanding and embrace the inherent beauty of these handcrafted pieces.
Additional information
| | |
| --- | --- |
| Box Size Type | Medium Size 7x5x2.5 $84.95, Large Size 9×7.5×2.5 $99.95 |