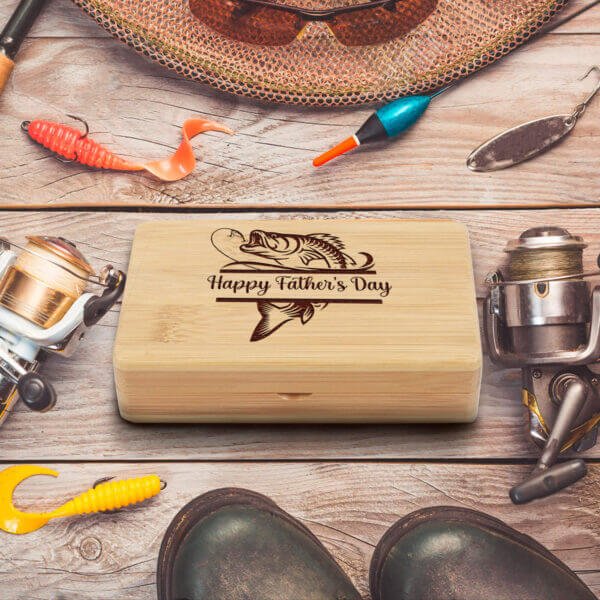 $49.95
Anglers' Choice presents the ultimate solution for fly fishing enthusiasts – our comprehensive Fly Fishing Kit packaged in a beautiful, premium Bamboo Engraved Fishing Box for Fly Fishing Keepsakes. This all-inclusive kit has been meticulously curated to provide everything you need for a successful and enjoyable fishing adventure.
The star of our kit is the elegant Wooden Keepsake Box, meticulously crafted to serve as both a storage solution and a symbol of your passion for fishing. This durable box not only keeps your fly fishing gear secure but also adds a touch of sophistication to your angling experience. The box is designed to accommodate the included gear while allowing room for personal customization. Arrange your flies, lines, reels, and other accessories just the way you like them, ensuring a tailored and organized setup every time you head out for a fishing excursion.
Inside the box, you'll find a collection of high-quality fly fishing gear, each item chosen for its durability and performance. Whether you're a novice angler or an experienced pro, our kit has something to offer. Enhance your fishing skills, experiment with different techniques, and enjoy the thrill of reeling in your catch with confidence, knowing you have top-tier equipment at your disposal.
Anglers' Choice Fly Fishing Kit is not just a purchase; it's an investment in your passion for angling. Its versatility, durability, and user-friendly design make it the ideal choice for anglers of all ages and skill levels. Plus, it makes for an unforgettable gift for the fishing enthusiasts in your life. Surprise them with a Fly Fishing Kit that combines elegance, practicality, and endless fishing possibilities.
Description
Introducing our handcrafted bamboo engraved fishing box, the perfect gift for fly fishing enthusiasts. This rustic and functional memory box provides stylish storage for keepsakes and is sure to delight any passionate angler.
~ Box Specifications ~
● Materials: Bamboo
● Size: 5.5″ x 3.5″ x 1.3"
~ Engraved Fishing Box PERSONALIZATION ~
In addition, Enter the text that you would like to have to appear on your product in the "enter the information to be personalized on the Fishing Wooden Box" box. After that, We will use the font and design in the product image shown above on your custom order.
Above all, Be sure to check your spelling and punctuation as your engraving will appear exactly as you write it out for us!
We will copy and paste the information into the design, providing exactly what you want to see on the board.
We are unable to accept returns or provide refunds due to customer error.
Please note:
Our engraved fishing box, a retirement gift, features natural materials that exhibit color variations and may engrave lighter or darker depending on the bamboo box. This is a normal and expected occurrence when working with organic materials.
We make all items to order. We engrave each order as we receive them. It usually takes around 2-5 business days for us to prepare your order for shipping.
In addition, Our bamboo engraved fishing box, a retirement gift, features natural materials with color variations that may engrave differently based on the bamboo box.