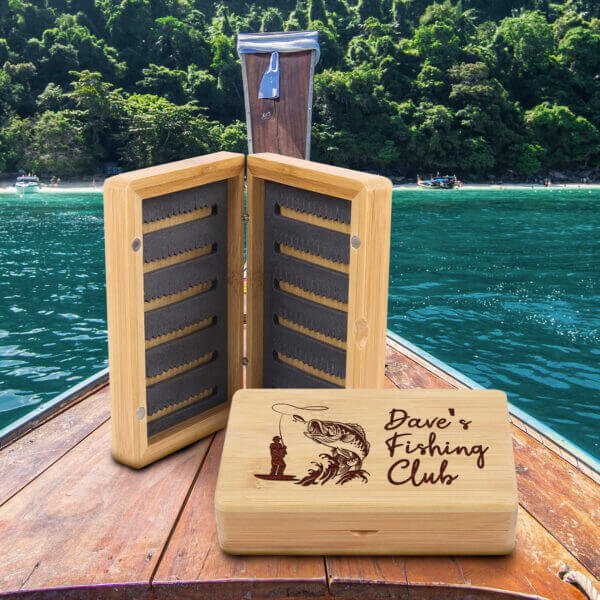 $49.95
Discover the artistry of angling with our exquisitely crafted Laser Engraved Fishing Tackle and Jig Boxes, exclusively at Aspera Design Store. These intricately designed boxes are not just storage solutions; they are a testament to the passion of every fisherman.
Handcrafted to perfection, our fishing tackle and jig boxes are laser engraved with precision, capturing the essence of the aquatic world. The intricate designs, inspired by the beauty of marine life, make these boxes truly unique. Crafted from high-quality materials, these boxes are not only durable but also serve as a stylish accessory for any fishing enthusiast.
Each box tells a story, a tale of the ocean's depths and the thrill of the catch. The laser-engraved detailing showcases various fish species and their natural habitats, bringing the marine world to life. Whether you're an experienced angler or a novice, these boxes are designed to enhance your fishing experience.
Not just practical, these boxes are a work of art, making them the perfect gift for any fisherman. The attention to detail and the craftsmanship involved in creating these boxes make them a standout addition to any fishing gear collection. Imagine the joy on the face of your beloved angler when they receive a personalized, laser-engraved tackle box, designed exclusively for them.
At Aspera Design Store, we believe in delivering more than just products; we deliver experiences. Our Laser Engraved Fishing Tackle and Jig Boxes are more than storage solutions; they are a reflection of your passion for fishing. Elevate your angling adventures with these unique and stylish boxes, and let your passion for fishing shine through.
Explore our collection today and indulge in the perfect blend of functionality and artistry, exclusively at Aspera Design Store.
Description
Gift the fly fishing enthusiast in your life a handcrafted laser engraved jig box. This rustic wooden memory box is perfect for storing keepsakes and makes a unique Christmas gift.
~ Laser Engraved Jig Box Specifications ~
● Materials: Bamboo
● Size: 5.5″ x 3.5″ x 1.3"
~PERSONALIZATION ~
Enter the text that you would like to have to appear on your product in the "enter the information to be personalized on the Fishing Box" box. Therefore, we will use the font and design in the product image shown above on your custom order.
Above all, Be sure to check your spelling and punctuation as your engraving will appear exactly as you write it out for us!
In addition, We will copy and paste the information into the design, providing exactly what you want to see on the board. So we are unable to accept returns or provide refunds due to customer error.
Please note:
We make our boxes from natural materials, and they naturally exhibit color variations. And sometimes, it will engrave lighter or darker depending on the bamboo box. So this is normal and is to be expected when working with organic materials.
We make all items to order. We engrave each order as we receive them. It usually takes around 2-5 business days for us to prepare your order for shipping.
In conclusion, boxes are made of the natural, non-stained origin of the wood your box might look different from what is shown-laser engraved jig box.