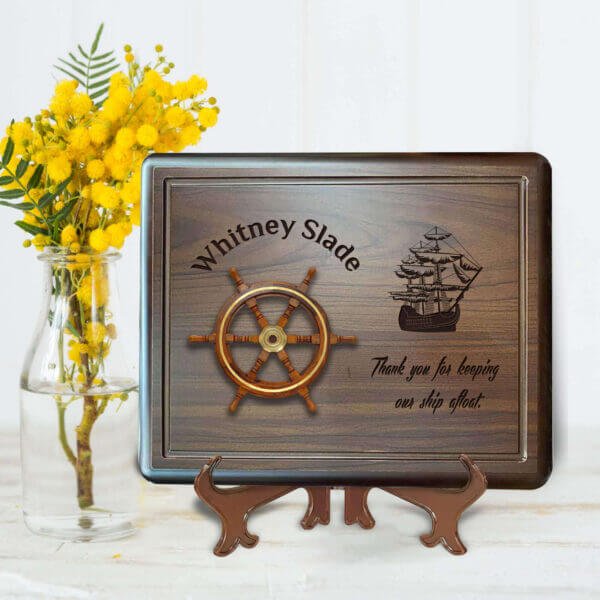 $74.95
Our walnut plaque ship wheel is a masterpiece of craftsmanship and sentiment. This plaque is made from solid walnut wood, presenting the wood's natural beauty and variation. The laser engraving adds intricate detailing to the design, featuring a solid rosewood and brass ring ship wheel that adds an elegant touch.
This plaque, which measures 7″ x 9," may be quickly placed on a wall or put on display on a desk with our optional black easel. The custom-engraved wooden plaque is the perfect way to express your love and appreciation for your dad, grandpa, papa, or uncle. This amazing walnut plaque ship wheel will add even more meaning and character to the day of your loved one.
Description
Navigate your gifting journey with our Wood Sailing Ship Wheel on Walnut Plaque. Custom-engraved for a personal touch, it's the perfect gift for the seafaring loved ones in your life.
In addition, our skilled artisans handcraft this completely unique item from solid Walnut wood. We laser engrave it for high detail, and embellish it with Solid Rosewood & Brass Ring, demonstrating dedication and precise craftsmanship. The Wooden Ship Wheel with Brass measures 4 inches in diameter.
~ Ship Wheel on Walnut Plaque Personalization ~
Enter the text that you would like to have to appear on your product in the "enter the information to be personalized on the plaque" box. In addition, we will use the font and design in the product image shown above on your custom order.
Above all, check your spelling and punctuation; your engraving will appear exactly as you write it out for us!
In addition, we will copy and paste the information into the design, providing exactly what you want to see on the board. So we are unable to accept returns or provide refunds due to customer error.
ALL OUR PLAQUES ARE UNIQUE!
This is a Wooden Plaque -Birthday or Retirement Gift for Men made from Natural, environmentally friendly Black Walnut. We've meticulously crafted this plaque from Dark Walnut, excluding any sapwood, while embracing the wood's natural color variations.
Unique in nature, each piece has its own pattern. Each plaque will be unique.
Engraving
In conclusion, walnut is a DARKER WOOD.  We use a laser engraver that burns the wood. This means on darker wood. The engraving will be more subtle.