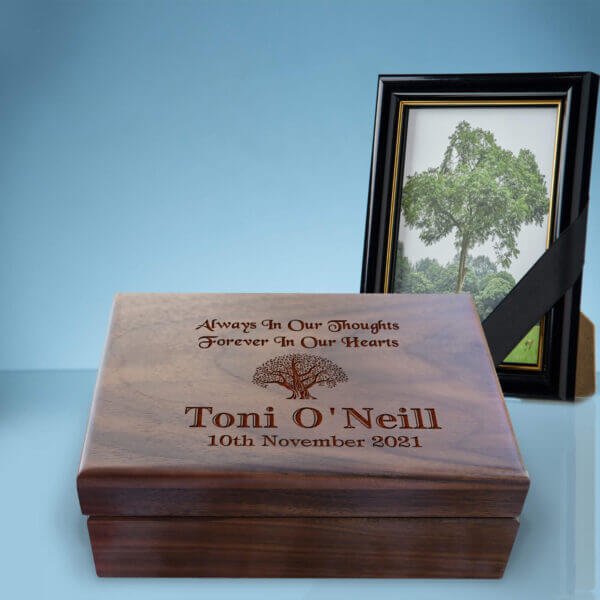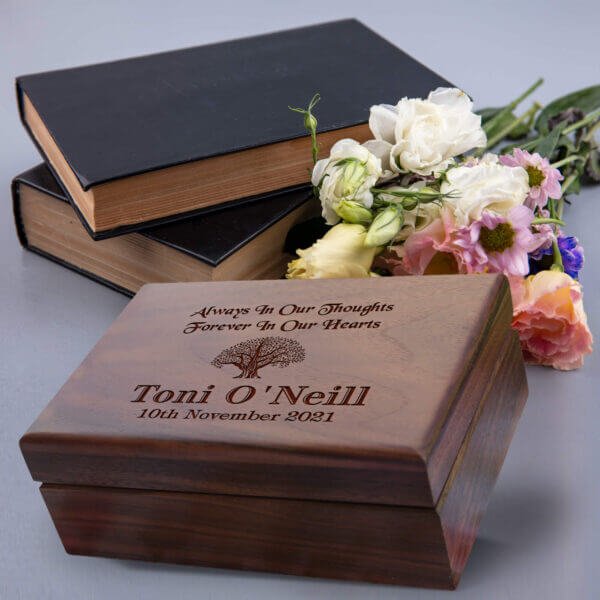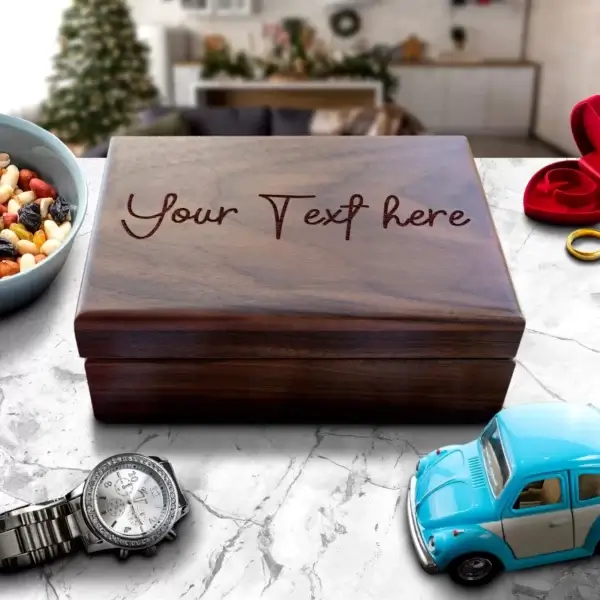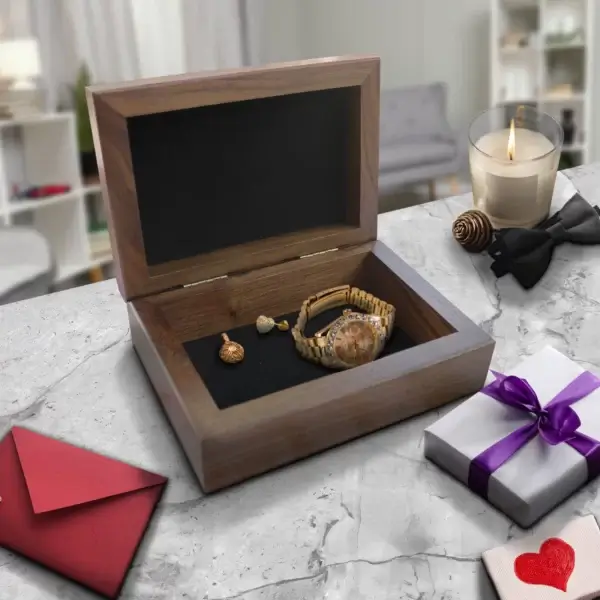 $84.95 – $99.95
Aspera Design offers elegantly crafted Memorial Personalized Keepsake Box that provides a dedicated space to preserve treasured memories. Our Condolence Keepsake Boxes are designed with durable high-quality materials and offer the option of personalization, creating a unique and intimate tribute to your loved one. These boxes serve as exquisite decor pieces that offer comfort and healing to grieving individuals, allowing them to find solace in the love shared with their departed loved one.
Description
~ About Memorial Personalized Keepsake Box ~
~ Item Specifications ~
Materials: Solid Walnut Box
Medium Size:
-Outside Dimensions: – 7″ x 5″ x 2.5″
-Inside Dimensions: – 5.8″ x 3.7″ x 2″
Large Size:
-Outside Dimensions: – 9.5″ x 7″ x 2.5″
-Inside Dimensions: – 8.4″ x 5.9″ x 2″
Personalization
Enter the text that you would like to have to appear on your product in the "enter the information to be personalized on the Wooden Box" box. We will use the font and design in the product image shown above on your custom order.
Also, Be sure to check your spelling and punctuation, as your engraving will appear exactly as you write it out for us!
The information will be copied and pasted into the design, therefore providing exactly what you want to see on the box. Before ordering, you have to keep two points in mind.
Firstly, We are unable to accept returns or provide refunds due to customer error.
Secondly, Each Memorial Personalized Keepsake Box is engraved to order and will have natural color variations. Wooden Box may not look exactly like the images provided, as each piece of wood and its engraving is one-of-a-kind. Organic variations in color are natural, desirable characteristics and do not affect the integrity of the products.
Who Should Use Memorial Personalized Keepsake Box
It can be used by anyone who is experiencing loss or grief or looking to remember a loved one.
Also, It can serve as a meaningful gift for anyone who wants to keep memories of someone who passed away if you lost someone in your family member, friend, or beloved pet. You can place it to store mementos and keepsakes that remind them of their loved ones.
Additionally, individuals who are going through the process or seeking comfort during times of bereavement. It may appreciate having a personalized keepsake box to honor and remember their loved ones.
Ultimately, the keepsake box is a versatile item that can be used by anyone seeking a special place to preserve memories. It honors their loved ones and find comfort in times of loss.
How Long Does it take to deliver the Custom Remembering Gift for Loss?
In summary, We engrave each order as we receive them. It usually takes around 3-5 business days for us to prepare your order for shipping.
Also, WALNUT BOX ARE MADE OF NATURAL, NON-STAINED ORIGIN OF THE WOOD YOUR BOX MIGHT LOOK DIFFERENT FROM WHAT IS SHOWN-Memorial Personalized Keepsake Box.
Also, Please check our collection of Personalized Cutting boards
As well, Engrave finishing box
Also, See the complete collection of Personalized Memory boxes
Additional information
| | |
| --- | --- |
| Box Size Type | Medium Size 7x5x2.5 $84.95, Large Size 9×7.5×2.5 $99.95 |
| Please select your preferred design | Design# 1, Design# 2, Design# 3, Design# 4 |