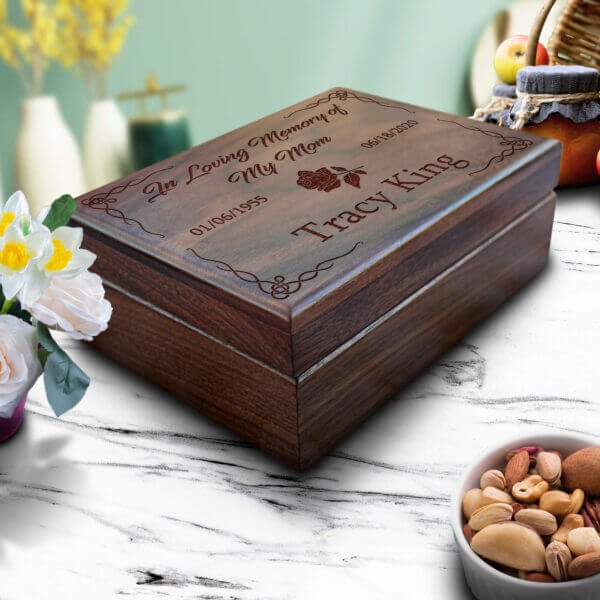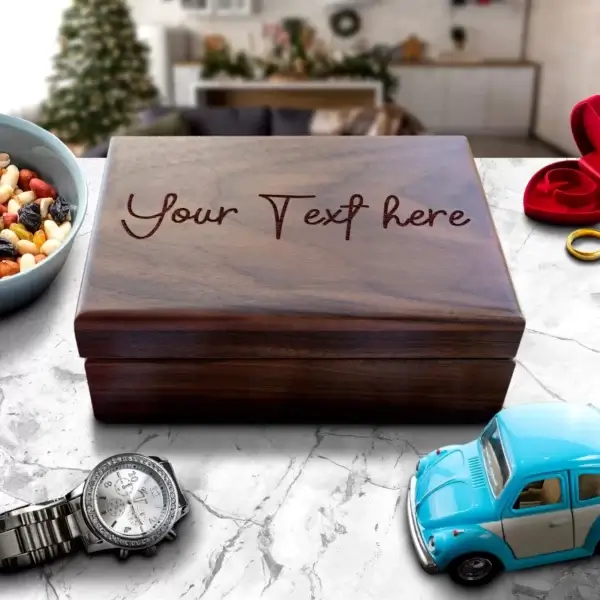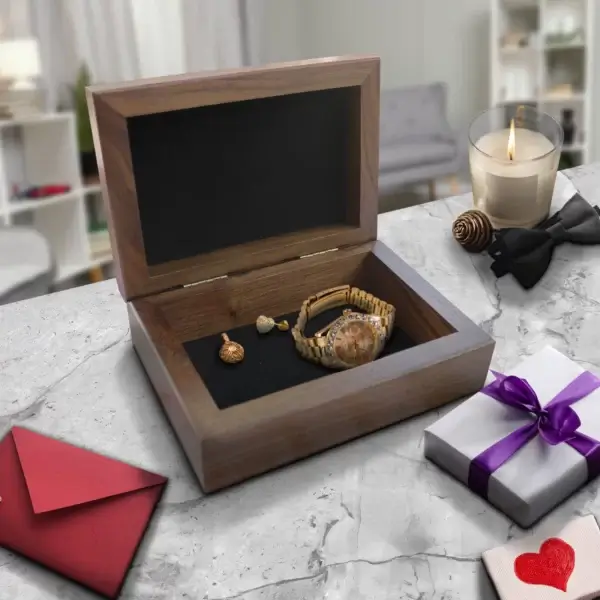 $84.95 – $99.95
Introducing the Memorial Keepsake Box for Mom by Aspera Design – a heartfelt tribute to honor her memory. This elegant Jewelry and Gift Box is carefully crafted with timeless elegance and attention to detail, making it a cherished keepsake that preserves the essence of Mom's legacy.
Customizable with Mom's name, significant dates, or a special message, this box becomes a personalized remembrance that resonates with Mom's spirit and the love shared with her family. It comes with secure compartments and soft, velvet-lined interiors to safeguard Mom's precious jewelry pieces.
Crafted with exquisite woodwork, it complements any decor and becomes a symbol of Mom's enduring legacy, a reminder of her grace, and a source of comfort for the family. This versatile box can also hold other cherished mementos such as letters, photographs, or small tokens, becoming a repository of memories.
At Aspera Design, we prioritize quality craftsmanship and precision. The Jewelry and Gift Box is a cherished heirloom that stands the test of time, becoming a tangible connection to Mom's memory and a comforting presence in the family's home.
Description
Personalization On Memorial Keepsake Box for Mom
~ Item Specifications  for Loving Memory of My Mother~
● Materials: Solid Walnut Box
● Outside Dimensions: – 5″ x 7″ x 2.5″
In the "enter the information to be personalized on the board" box. Please provide the text for your personalized Couple Established Cutting Board. It is important to double-check your spelling before writing to us. We will use the same design and style that you'll provide for the engraving.
Please note! We cannot grant returns due to customer spelling errors or to the nature of personalized orders. Also, The boards may be slightly different from the images provided. Also, It is because the individual characteristics of the wood and the intricacy of the engraving contribute to their distinct appearance.
Furthermore, Each custom Wooden Box is engraved to order and will have natural color variations. Wooden Box may not look exactly like the images provided, as each piece of wood and its engraving is one-of-a-kind. Organic variations in color are natural, desirable characteristics and do not affect the integrity of the products.
Who Should Use Wood Custom Board
These memorial gifts and boxes can be used by anyone who has experienced the loss of a loved one—those who want to honor and remember their mother or daughter who has passed away.
Also, These items can provide a meaningful way to keep cherished memories alive and create a special space to store mementos, photographs, or other keepsakes that hold sentimental value.
In summary, They can serve as a source of comfort and remembrance, allowing individuals to grieve and celebrate the life of their loved ones in a personal and meaningful way.
How Long it takes to deliver a Memorial Gift for Mom?
Usually, It takes around 3-5 business days for us to prepare your order for shipping. Also, WALNUT BOX ARE MADE OF NATURAL, NON-STAINED ORIGIN OF THE WOOD YOUR BOX MIGHT LOOK DIFFERENT FROM WHAT IS a SHOWN-MEMORIAL GIFT FOR MOM, GIFTS FOR REMEMBERING MOM
Additional information
| | |
| --- | --- |
| Box Size Type | Medium Size 7x5x2.5 $84.95, Large Size 9×7.5×2.5 $99.95 |